Orange County's Best Choice for On-Site & Off-Site Document Destruction
Secure - Reliable - Affordable - Family Owned - 1,000s of Satisfied Clients
Compliant with NAID Standards, HIPAA & Privacy Legislation - No Long-Term Contracts
Reviews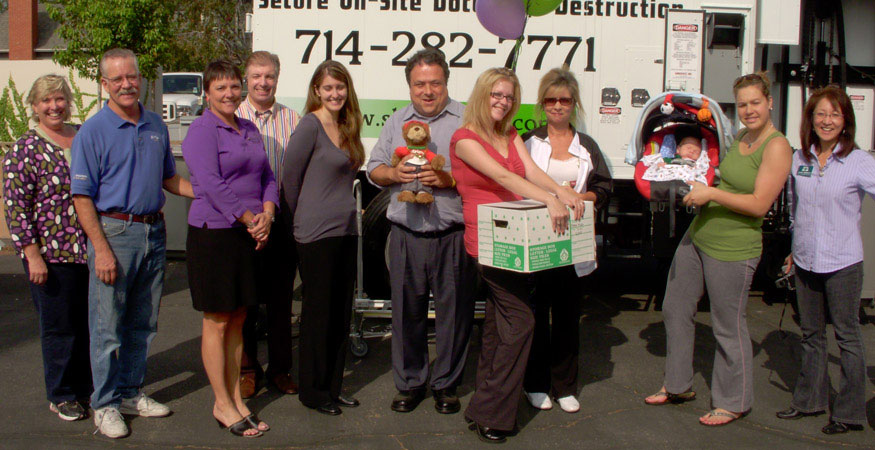 Dear Sherry, Gary and Nick August 2012
We would like to thank you for your years of service to our office. We truly appreciate your professional and very confidential service.
Marjorie, Lakewood
---
CH president of local Payroll Company tells us:
Shred Wise is doing a great job for my company. Shred Wise IS the safe and secure way of disposing sensitive material…Thanks Sherry!
---
Wanted to send you all a note of thanks! Your service was at my home on Wednesday (6/20/12).
I truly believe that things happen for a reason so I want to share a little story to you of how we came to
use your service. I had originally called XXXXXXXXXXX because they were recommended from a friend.
But on the day I called them I guess they were too busy to talk to me and took my number and said they would call me back. Well, they didn't and I went looking for another company using an internet search.
This is how I found your company. I am so glad I did. Gary and Nick were right on time. I also thought
I would have to transfer my shredding to your barrels. Nope, Gary and Nick did that for me so I did not
have to lift a finger!
I am so much happier using a local family owed and operated business. I will recommend you to all
my family and friends!
Thanks again!
Christy, Irvine, CA
---
Called this company yesterday for the first time and the owner answered while in his car. Since he was on a speaker, it was a little hard to understand each other but later in the day Gary called me to confirm our appointment for today (Thursday).
At 9-9:15 he showed up in a big clean truck, took all my boxes out of my van and proceeded to shred them. No fuss, no mess, no problems. One check later and Gary was on his way!
Great little business with a wonderful customer service mentality. We don't need this type of service more than once or twice every five years but I would not hesitate to call them again or recommend them to anyone needing a document shredding service.
– Frankie S., Yorba Linda, CA
---
I am in the process of settling my parents' estate, so consequently there are boxes and boxes of documents to be shredded. I was using another company down near John Wayne Airport, but they had such a restrictive schedule I thought I'd try someone else. I AM SO GLAD I CONTACTED SHRED-WISE! Sherry replied to my e-mail in a short time, and once I got there Jorge provided outstanding customer service. I recommend them without reservation, and plan to use them exclusively for future shredding needs.
-Dave H., Orange County, CA
---
Easy, affordable and friendly!
– Rhonda H., Anaheim, CA
---
Nicest mom and pop business! Courteous, fast and easy to deal with. They give worry free shredding and great service, highly recommend for your professional and personal needs…
Sherry is cute and chipper every time you call so refreshing!
– Audra R. ***** (5 of 5 Stars)
---
If you need to have a lifetime of documents shredded, look no further than Shred-Wise in Orange. Sherry in the office was so easy to contact and her responses are quick! They were on time and the job was done in minutes. The cost was far less than I thought it would be. I feel a lot lighter!
Patti W., Cypress, CA ***** (5 of 5 Stars)
---
Good operation with good people. No hassles, no small talk, courteous and quick. Delivered containers when they said they would, picked them up with they said they would. Price competitive. Thanks!
Jim G., Irvine, CA ***** (5 of 5 Stars)
---
ShredWise is the greatest company! We have been a client for about a year and a half and I do nothing but continue to sing their praises. The service is impeccable! They are "Johnny on the spot" for all of our extra projects that need shredding. And who doesn't like to see big machines work! It is nice to have one less thing to worry about these days!
Kim R. Anaheim, CA ***** (5 of 5 Stars)
---
I have used Shred Wise for 3 years to shred our important papers.
We take a few boxs to the Orange location a couple times a year. Sherry and her husband Gary are so professional and easy to work with. If you have a lot of boxs you may want to call and have them come to you. They provide peace on mind.
Donna C., Orange, CA
---
Service does not get better than this!!! IT really does not! From the initial phone call to our parting words, this experience was perfect. IF only all businesses ran this way! Considering that we handed over highly confidential documents to be shredded it seems only wise to make certain it is a company you can trust. DO your research and make sure you know who you are dealing with, as I did. You will not be disappointed at all!
Katrina W., Orange, CA
---
Great company. I gave Sherry a call to set an appointment for them to come out and shred 4 pallets of past receipts. Gary (Sherry's husband) was out the very next day. Within just about an hour and a half all of my shredding had been done on site. Great customer service and best of all it cost a lot less then expected.
Al D., Garden Grove, CA
---
Found Shred Wise through the Orange Chamber of Commerce about 3 years ago and couldn't be happier. Gary comes to your office monthly, swaps out the bin and shreds on site. Couldn't be easier. For easy, convenient and professional service I highly recommend this company.
J H., Orange, CA
---
Had to shred paperwork for a defunct company. Had a good experience. Very professional and efficient. Highly recommended.
Alexandre K., Laguna Niguel, CA
---
Prompt, reliable, good price. Love that they come to the office and or house and take care of it for you.
Alexa A., Santa Monica, CA
---
We recently moved from a four bedroom home and downsized into a very small home. With two offices in the house and file cabinets holding personal papers in the garage, we were overwhelmed with the task of getting rid of personal papers.
Shred-Wise came to the rescue by dropping off large bins and picking them up with a simple phone call.
We knew we could trust our papers to Shred-Wise. Don't risk your personal information being stolen for identity theft. The price is reasonable and the service outstanding.
Karen R., Hillsboro, OH
---
It's nice to do business with nice people…. Friendly, Courteous, Prompt and Efficient! Each month I can rely on Gary to show up as scheduled to shred my documents infront of me to ensure of complete disposal. The company I work for demands a certificate of disposal and working with Shred Wise not only meets those reqirements but any special event or needs are immediately met as well. I've been a client for several years now and would never think of moving or changing.
Mark H., Tustin, CA
---
This is such a great company!
It's a small business ran by husband and wife, and they handle everything very professionally. Scheduling with Sherry was a poece of cake! I can expect all my confidential information to be shredded and handled without worrying about it. They are local; you can drop off boxes to their shop and they also drive to you! They've come to my house after doing some major spring cleaning. The drivers are also so nice and professional! Thanks for being so trustworthy!! We will definitely use Shred Wise again.
Lauren C., Orange, CA
---
I ran into an emergency situation while helping someone move. The person had to be out of her apartment that day, and she had boxes and boxes of material that needed to be shredded. A desperate internet search turned up Shred Wise as the nearest drop off location. I loaded my car up three separate times to make trips with boxes. Each time, I was met by friendly, helpful folks who got me taken care of.
Having Shred Wise available that day was a real life-saver, and I'd highly recommend them to anyone in need of a secure shredding service.
Chris P., Los Angeles, CA
---
Fantastic service and fair price!
Angela B.
---
Good people and good business.
Andy K.
---
Our company has used Shred Wise on several occasions, usually at year end when we need to dispose of old documents to make room for new ones. This past experience was exceptional. I had driven to Southern California from Utah to help with the 2014 year end document disposal. We called them on short notice and asked for bins to be delivered and they accommodated us early the next day. We had originally expected to finish on a Friday morning, but finished early Thursday evening and called to see if they could pick up/shred the materials Thursday evening so I would be able to head back to Utah and not spend company time and money staying another night and hanging around Friday morning for them to pick up the bins. Gary, the owner, went out of his way to stop by at 4:00p Thursday evening to get the bins; and I was able to leave town early. They went the extra mile, literally, for us. It was VERY appreciated.
Colleen A.
---
Our office recently had Shred Wise, Inc. come to our office and pick up confidential files to be shredded and they were beyond professional and couldn't do enough for us! I would 100% refer Shred Wise, Inc. to anyone who is looking for a company that goes above and beyond to make the transition of shredding confidential files. We are a Medical Office in Orange and again, we were very pleased with their professionalism!
Charli R., Medical Assistant
Reviews

Good operation with good people. No hassles, no small talk, courteous and quick. Delivered containers when they said they would, picked them up with they said they would. Price competitive. Thanks!