Orange County's Best Choice for On-Site & Off-Site Document Destruction
Secure - Reliable - Affordable - Family Owned - 1,000s of Satisfied Clients
Compliant with NAID Standards, HIPAA & Privacy Legislation - No Long-Term Contracts
Shred Wise and Sleep Well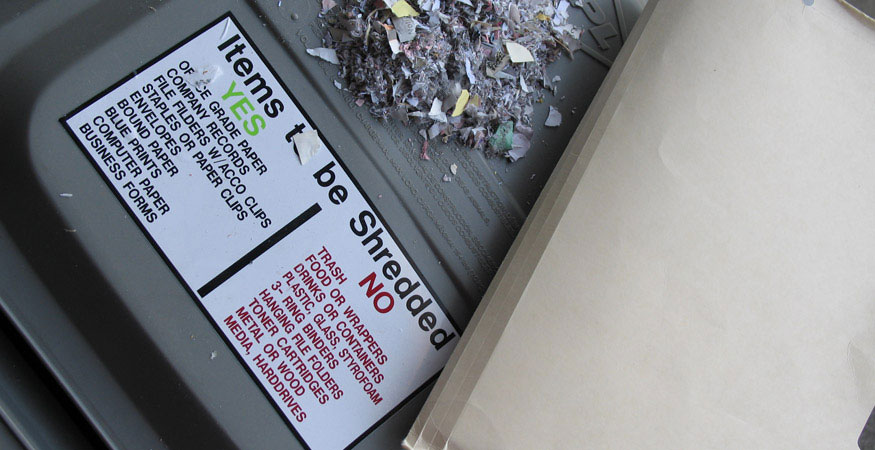 Shred Wise and keep your company secure
Always Shred the following documents:
Bank Account Numbers
Bank Account Reports and Statements
Bids
Blueprints
Brokerage Reports
Business Reports
Canceled Checks
Classified Information
Client Information
Client Lists
Confidential Letters
Contracts
Correspondence
Credit Applications
Credit Card Numbers
Credit Card Statements
Debit Card Numbers
Drivers License Numbers
Employment Information
Financial Reports
Insurance Policy Information
Intellectual Property
Invoices
Job Applications
Legal Documents
Medical Records Patient Data
Memos
Names, Addresses & Phone Numbers
Payroll Records
Personalized Junk Mail
Quotes
Receipts with Signatures
Social Security Numbers
Student Records
Tax Records
Remember:
Always shred any document that contains 2 points of personal information, such as:
Name, Address, Phone Number, Email, SSN, ID Number, Password or Company Name etc.
Reviews

Service does not get better than this!!! IT really does not! From the initial phone call to our parting words, this experience was perfect. IF only all businesses ran this way! Considering that we handed over highly confidential documents to be shredded it seems only wise to make certain it is a company you can trust. DO your research and make sure you know who you are dealing with, as I did. You will not be disappointed at all!